So yeah…
I know I'm jumping the gun by talking about New Year's Resolutions this early. But we're almost to Christmas, and you know what that means…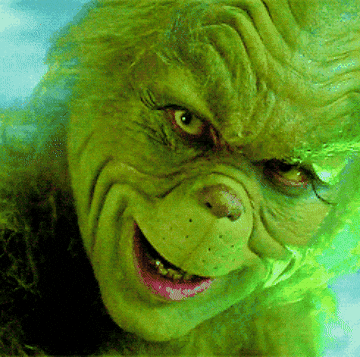 Money has run out. Weight has been gained. Habits have been baddened.
Destruction. Everywhere. So many good things have been undone because we can't say no and eggnog only tastes good when it's half booze. I freakin' love it, too. Send me all the holiday cheer!
And then! As soon as Christmas ends, we're expected to jump on the "Get Right Tour of Year 2020." Just like we did all the Januarys before. There's no mourning period for our mountain of credit card debt. There's no detox. Just aim for the stars and at least you'll get mooned.
Or however the saying goes.
How about this…
New Year's Resolutions are good. Just like Christmas is good. Don't get me wrong, I've learned plenty of hard lesson due to my over ambition on both – but one thing has become abundantly clear in the year of our Lord 2019: Beauty is always in the eye of the beholder.
As for me…
Taz posted a question in the Outside the Box Private Facebook Group about New Years Resolutions.  The responses were humble, honest, and self-aware. That's one of my favorite things about the Outsiders. We don't pretend to be something we're not. And I like to think I'm no different.
I look at New Year's Resolutions like I look at a bad grade in a class. Sure, things might not have gone the way I wanted in the past, but that's only because it was my fault. If I try harder, and I put myself in better positions, then the results will come. New Year's Resolutions aren't my enemy. My lack of consistency and inability to overcome distractions are the problem. Every single time I've failed to achieve a resolution, I can trace it back to a fault in my character.
If 2020 is going to be different, than I need a better plan.
As for us…
If you think New Years Resolution's suck, you're probably not wrong. It's a divisive topic. It's like politics, but more honest.
Google says that 80% of New Years Resolutions fail. So, maybe it's not that honest. I'm willing to bet the number is even higher, most people are too ashamed to admit their New Years Resolutions didn't even make it to January 20th.
The Truth…
The number 1 divider between a goal's success and failure has nothing to do with the goal itself. Don't get me wrong, if you're lofty goals without considering reality, then you're just ice skating up hill. Sure, you might get there eventually, but don't set yourself up for failure.
The most important aspect of any New Year's Resolution is support.
Let's take Buddy the Elf for example.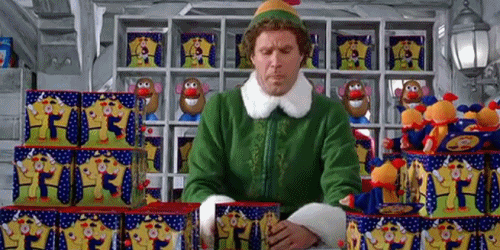 He couldn't hit his potential while he was in the North Pole, and he would have never found a woman who could physically carry one of this babies. It took him branching out in order to see himself. If you're spending your whole life surrounded by elves, you're not going to know what it's like to reach new heights. Get it? That doesn't mean his family didn't love him. They were just limited in what they brought to the (miniature) table.
To overcome… 
Tribe Up. If you're living with elves, it's not their fault. They're not your enemy, but they're limited in what they can offer. Find a group who drives you. Shared motivations and inspirations will fuel the fire more than any one-man operation. 

Initiate. Sometimes, it's really weird to make new friends. Kids could just meet in a playground and instantly become besties. When they were younger, the twins would come to me and say, "I have a new friend, we met at the park. I don't know her name but she's amazing." They didn't care about the clothes or history or grades, they just wanted a friend to play. For you, social media is easy. Try this, "Hey, I want to make 2020 a success. I have goals. I want to find a group of people who are going to help keep me accountable. Anyone interested?"  If you don't have a response within 24 hours, hit me up on Instagram and I'll be your accountability buddy.

Be consistent. Support isn't just about you. You can't be a taker. It has to go both ways. Frequent conversations and check-ins will prevent spite and unease. No one can feel a type of way if all the chips are on the table.
Outsiders Stay Gold…
Obviously, this isn't going to help you achieve every goal. But it's so underrated in progress. The lone wolf dies while the pack survives. That's from Game of Thrones, and it's true. We need each other. This world could use more people who share in victories and support in defeats. Advice isn't about teaching, it's about sharing. You're more resilient if you're more protected.
Our little family with Outside the Box has worked really hard to leave ego at the door and build a strong community. We want to celebrate with one another. Motivation can come from love, and it has a significantly better shelf life than fear.
Take a moment, think about your tribe. If you don't have one.
It's time to find one.
Word Wizard/Lead Brewmaster/First Contact Seeker
I'm the family lab rat, if your family is a group of mad scientists. I mask my weaknesses by being funny and telling stories. Basically, I write posts for the blog, type up some emails, help where asked, and cry when Taz makes us run. My novels are available on Amazon. Something's got to pay my daughters' dance fees. I have four kids, three cats, and one wife. I love all of them dearly.