We want you to win as an Outsider.
And to do that, we're here to set you up for success.
Getting motivated to work out again is no easy thing.
Nor is going from zero to hero and suddenly getting consistent with your fitness.
That takes planning and self-awareness.
Here are 3 things to do if you want to make this online workout program work for you—
We're here for you.
We want you to succeed.
Put these 3 things into practice and see what happens:
Commit: Decide on a number of workouts and put it into your schedule.
Stay Accountable Through Community: Join the private Facebook group, work out with a buddy, or find another way to check-in with people who care about your goals. Within Beyond the Whiteboard, get comfy with the Squads and Leaderboard features.
Get Clear on Your "Why" or Your Reasons for Working Out: How will fitness improve your life? What will you do as a fitter person? How will your life change? How is working out meaningful to you?
For Taz and I, we workout so that we can live the lives we want to live. Hiking. Swimming. Playing with our kids. We don't want to miss out because we're too weak, too tired, too de-conditioned. We've got one life, and our kids are growing fast. Our reasons for fitnessing now are completely different than 5 years ago, and we believe that's why it's really important to check-in on what your reasons are for working out today, right now, so that you can hold that vision (and those goals) in your mind on the days when you're not "feeling it."
Because, to be honest, with three small kids, there are a lot of days we're not feeling it.
Sometimes, it's best we take a nap and catch up on lost sleep.
And sometimes, it's best we move our family circus into the garage and get a quick workout in.
Which can feel a bit like this…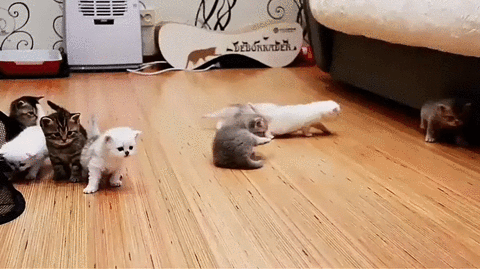 It is what it is. And we wouldn't change a thing.
All we can do is show up and give it our best.
Stay gold.
Co-Founder/Video Monkey/Head Pesterer of Taz
You'll see my bearded face and excellent t-shirt collection in the videos I film for our unrivaled community of #Outsiders. I also test the workouts, help with social media, and steer the ship. For fun, I converted a van into a sweet rig for camping with the fam across the good ole USofA. I love the water and getting my boys outside. I can also sing the entire soundtrack of Hamilton: The American Musical while blindfolded and jumping on one leg in the rain.