They say children are the future.
If that's the case – then you're all welcome. I'm blessed with 3 amazing children who are going to make the world a better place. They're 3 of the most loving, kind hearted little humans I've ever met.
Ahem, I also have a 9-week-old baby boy, but the jury is still out on him. He's the first of the 4 to actually have my DNA, so he's got an uphill climb. He's already mastered fake crying… I think that means we're off to a rocky start.
I say that about my oldest three, yet if you watch them workout together, you might not share my opinion. This week's Death to Dadbod featured two children nearly go Medieval on one another. Sibling rivalries are odd to me. I never had one. My big brother was my BFF. You could count on zero hands the amount of times we fought. Sometimes, my kids act like they have to fight over oxygen.
Let's set the stage, shall we? 
Meet the Hoopers:
Me, because this is my blog and I have to workout. I'm hoping to get through this workout without passing out. I'm pumped for a family workout.
Joanie, the wife and queen of the seven kingdoms. She's beautiful and funny and might have birthed 4 Velociraptors. She wants to stay consistent through this workout, but she's modifying some of the movements. Joanie loves the idea of this being a body weight workout to do with the whole family.
Emma (10), she's the quiet storm. No workout for her today, she's holding Baby Aran while the rest of us get down.
Bella (10), the bossy twin. Sassy, stubborn, brilliant, and extremely strong. Her intelligence makes her subtly brutal when faced off against her brother. She wants to win this workout.
AJ (13), the oldest and most athletic. He's built like Brent Fikowski without the muscles. If any of my kids end up being a CrossFit Games champ, I think it could be him. He has Virtuosity with a capital V. He needs to beat his sister in this workout, but doesn't care about winning over me.
We're all competitive. All intense. And very sarcastic.
The Workout:
5 V-ups
10 Push-ups
15 Air Squats
EMOM 15 min.
My Scaling:
We're doing sit-ups instead of V-ups. Mainly, because I don't want to do them and I definitely don't want to teach my kids how to do them directly before this workout. Sue me.The four of us are in a circle, in our living room. Ready for the best family workout ever.
3… 2… 1… Go!
1:00 – Both kids fly through the sit-ups.  Bella's push-ups look like she doesn't have elbows. Her hips touch the ground, but her arms stay locked in place during each rep. I love that she's trying, but AJ is offended. He scowls at me as he finishes his air squats. Bell wins round one. (B:1)
2:00 – AJ shouts, "Those aren't push-ups, you're just having a seizure." I laugh, she says their the best she can do. Fortunately, we have one adult in the room. Joanie explains to her daughter how to do "modified push-ups." Bella follows directions and finishes the round, but I win round two. (B:1, D:1)
3:00 –  AJ starts his second set HOT. He's flying on his sit ups, pushing through on his push-ups, and his squats look great. He's a body-weight savant when he wants to be. By the time I start my air squats, he's finishing. And Bella isn't far behind him. AJ wins round three. (A:1, B:1, D:1)
4:00 – Bella and AJ are neck & neck heading into the squats. Bella pulls away as she has less distance to travel. AJ is fuming. Bella wins round four. (A:1, B:2, D:1)
5:00 – Emma cheers on her twin sister. AJ tells her to worry about the baby. Bella wins the round. (B:3, A:1, D:1)
Sidebar: Joanie is modifying a good bit, but she's usually getting about 12 seconds of rest each round. I'm finishing each with about 10 seconds. The kids are finishing with about 18-20 seconds.
6:00 – AJ flies again. Bella is trying to keep up. Sit-ups are the slowest of my movements. 10 push-ups are hard for me. Those 15 air squats are smooth and painful. My butt is happy to be returning. It vanished before, and now it's starting to come back. AJ wins the round. (A:2, B:3, D:1)
7:00 – Bella pulls away in this one. Her squats are awful. No depth, too wide of a stance. AJ shouts, "You've got to be kidding me!" She wins the round, sticks her tongue out at her brother. He replies, "The Easter Bunny isn't real." Her tongue goes back in her mouth, she found out this weekend, that wound is still fresh. This family workout is fun! They're distracted by their shared disdain, I win the round. (A:2, B:3, D:2)
8:00, 9:00, 10:00 – I'm having a hard time with each movement. First, because my body is slowly decaying with each rep. Second, because my two children are staring at one another like UFC fighters at the weigh in. Bella wins one. AJ wins two. (A:4, B:4, D:2)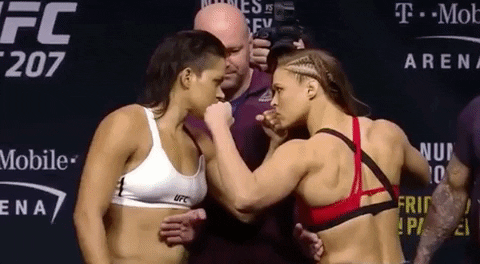 we're having fun in our family workout!
11:00 – The kids are panting now. They're gassed. Bella stops on her push-ups. AJ is rubbing his legs to start the squats. They both have cry faces . I don't feel any worse than during round 7, honestly. My legs have a gnarly shake at the top of each squat, but I still finish with less 12 seconds to go. Bella walks out in the middle of the workout, heading to the back porch. AJ tries to catch me, but I get him in the end. (A:4, B:4, D:3)
12:00 – Bella runs inside to start the round. It looks like she's been crying. It looks like AJ is doing yoga instead of the workout. He's in a pure cat's pose. Ain't that what it's called? I'm winning this round. (A:4, B: 4, D:4)
13:00 – AJ yells, "I puked in my mouth! I puked in my mouth!" Bella yells back, "I want to see!" Which… ew. Joanie and I are both humming through, unfazed. Everyone meets Pukey at some point in CrossFit, right? My children are distracted. I win the round. (A:4, B:4, D:5)
14:00 – AJ is still talking about his puke. Bella is lurching through, unable to focus on one rep at a time. My face is smashed into the ground with each push-up. My belly cramped during the sit ups, which meant I didn't have the core strength to do consecutive push-ups. Still, I pull through and win this one. (A:4, B:4, D:6)
15:00 – Here's the thing: 15 minutes is only 1% of your day. Seriously! It's such a minor blip on the daily radar, yet every one of the 900 seconds is a near-death experience. I want to cry. My body isn't ready. I yell out, "Last one, finish strong!" but inside… there are tears. My engine is gone. If I finish this round, it's a miracle. Bella tells AJ she's going to beat him. He doesn't reply. My son has turned into the Phoenix, rising from his own vomity ashes. I've never seen someone move with such efficiency. Even in my haze of pain, I feel so much pride as AJ is counting each rep out loud like a freakin' boss. He's intimidating his sister in the purest competitive way. My heart is full. He wins the round. I finish after the buzzer.  (A:5, B:4, D:6)
The kids high five each other. Say good job.
My body is useless, but my heart is full.
Tune in next week for another Dead to Dadbod.
And hey, follow me on Instagram! @Instadanial_
Word Wizard/Lead Brewmaster/First Contact Seeker
I'm the family lab rat, if your family is a group of mad scientists. I mask my weaknesses by being funny and telling stories. Basically, I write posts for the blog, type up some emails, help where asked, and cry when Taz makes us run. My novels are available on Amazon. Something's got to pay my daughters' dance fees. I have four kids, three cats, and one wife. I love all of them dearly.