My son is obsessed with Fortnite. He knows all the dances, the landmarks on the map, and uses words like EPIC to describe a squad victory. I listen to his stories because I love him. He's almost 14 years old, and soon he's not going to want to talk to me about anything. I've read plenty of parenting handbooks to know there's a good chance I'm going to be treated like his sworn enemy for a few years.
He's fairly tall and very lean. His personality is similar to a cat, he loves to love until he wants his own space. Then, he usually ends up hiding in the guest room closet for 16 hours. Also, he's an expert candy smuggler. His bedroom has more candy wrappers than articles of clothing, and most of it didn't originate in our house. I'm like most parents, I worry every time I start looking underneath his bed. Except I fear half-eaten tootsie-roll pops.
He and my wife are fun workout partners. Both encouraging and challenging. Equally expressive and focused.
Joanie wants to workout, even when she doesn't have the energy.
AJ enjoys himself in the middle of a workout but doesn't actually ever want to workout, because that would cut into his time to play Fortnite and it makes his muscles sore. I love my son to death, but if his metabolism wasn't supernatural – this would be him.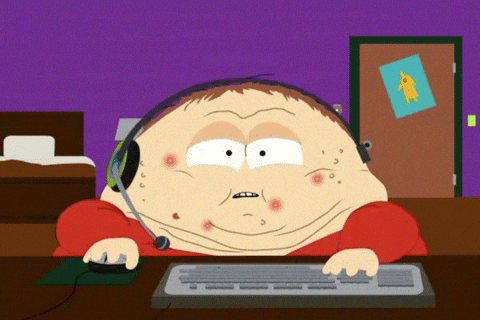 Anyways. We're going to do a workout together. The three of us. The twins are going to jump on the trampoline and cheer us on (and heckle AJ). The baby is going to cry because he wants his mother's attention.
Oh, and before I continue. If you're having a rough week, I feel for ya. My Sunday started with my 3 month old leaking rancid poop onto my bed, then proceeding to pee on me while I changed his diaper. And then, spit up on his fresh change of clothes. That's what you call the unholy trinity, ladies and gents.

Where was my son while this was happening? Playing Fortnite, of course.
The Workout
3 rounds, 1 min per station, of:
Double Under
Dumbbell Slam, pick load
Burpee
Single Arm Dumbbell Hang Power Clean, pick load
1 minute rest.
My Scaling
Fast Feet, AKA alternate my feet up onto a 15 inch bench instead of Double Unders.
By the way, I'm thinking my next home gym upgrade will be an awesome Jump Rope. If you're like me, go buy yours from RPM here. 
Note
I love workouts with a built in rest. It gives me a mental break during a time in which I'm usually closing in on a mental breakdown. Even if it's for 30 seconds, it still gives me comfort.
Also, for the sake of spacing, we're starting at different movements while getting the rest on the 5th and 10th minutes.
I'm starting at Burpees. AJ at DB Slams. Joanie starting with Fast Feet.
AJ asks if he can start at Fortnite and end at Dusty Divot. Cue the crowd applause for the good joke!
3… 2… 1… Go!
Round 1
1:00 My goal is to complete 14 Burpees on the first round. To some, that's not much. To me, that becomes really tiresome by rep 6. Still, I get to 14 and pause at the top just in time for the bell to ring. (14)
2:00 AJ's starts his Burpees. I'm doing my Single Arm Dumbbell Hang Power Cleans and I have a clear view. It's not great. His Burpees look like he's a fish trying to flop itself back into water.
Joanie looks beautiful, though. She does the DB Slams like an angel. I love that girl. (18)
3:00 Fast Feet get really old really fast. I used to love footwork drills in football, but that's before I devolved into a manbearpig with a weird hairline. (36)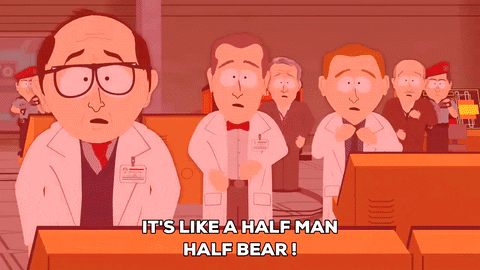 Lots of South Park gifs today, huh?
4:00 I like DB Slams. The movement is awkward, but it's a fun kind of awks. (20)
5:00 Rest. The baby cries to his mama. He's watching her bounce around during the workout and now he's hungry. I'm raising a very needy human. AJ is on the ground, panting. He looks like a dying character in Fortnite. (88 total)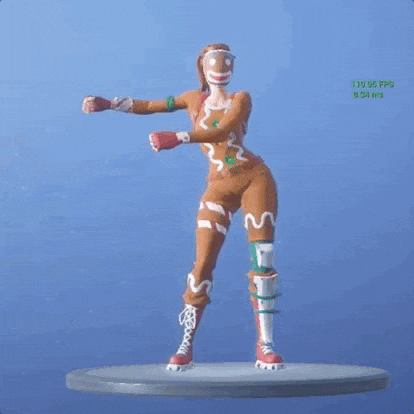 Flossing on Fortnite
Round 2
6:00 14 Burpees in the second round. A few weeks ago, I went through a major life event involving Burpees. This week, I'm close to 14 burpees in a minute. No, I'm not suddenly good at them. Far from it. I just so happen to know they're over in less than 60 seconds so it's more digestible. (14)
7:00 AJ doesn't move on to Burpees. He sets his weights down and grabs his water. I shout for him to keep going, it's not rest time. He says he's thirsty and his throat hurts. Before I can say anything, Joanie looks at me like a fierce mother bear causing my tail to cup under my legs. (16)
8:00 Less than Fast Feet. More like plodding feet. This one got really difficult. Mas defacil, for those who habla espanol. (28)
9:00 AJ stops to get more water. I choose to ignore him… kind of. "Great job, Joanie!" I yell. "Way to push through!" Because I'm not above being passive aggressive during a workout. (22)
10:00 We take a break during the time you're supposed to take a break. (80)
Before the next round, I shout to the two people standing within whisper distance, "Do 1 more rep each movement this round, so if last round you did 14 Burpees, push yourself to get to 15."
No one responds.
Round 3
11:00 THANK GOD I started with Burpees! I'm so happy to get these off my plate first. <- This is what I thought as I finished my 2nd rep. Then, reality struck me. Why did I just tell my family to try to do one more rep on each movement? That means I'm supposed to do 14 Burpees… that's 1 Burpee every 4 seconds. I'm no Brent Fikowski. I'm 6 reps deep and 9 more reps feels like it would be a world record. Maybe I should be going to the CrossFit games. Someone want to buy me a ticket? (15)
12:00 AJ is now just laying on the ground during his Burpees. Literally making spit bubbles. Is that a Fortnite dance? I handle my Single Arm DB Hang Power Cleans like an efficiency wizard. (21)
13:00 When I'm motivated, I can be really strong for around 18 seconds. After that, I'm not motivated anymore. Hi, this is my life story. (35)
14:00 Dumbbell! Slam! Dumbbell! Slam! This movement feels like two different workouts in one. Why did I sign up for this?  (23)
Time!
We're down for the count. AJ says he feels like he needs some slurp juice. The baby grunts like a hungry little piggy. I love those guys.
Check back next week for another Death to Dadbod!
And hey, follow me on IG @Instadanial_
Word Wizard/Lead Brewmaster/First Contact Seeker
I'm the family lab rat, if your family is a group of mad scientists. I mask my weaknesses by being funny and telling stories. Basically, I write posts for the blog, type up some emails, help where asked, and cry when Taz makes us run. My novels are available on Amazon. Something's got to pay my daughters' dance fees. I have four kids, three cats, and one wife. I love all of them dearly.